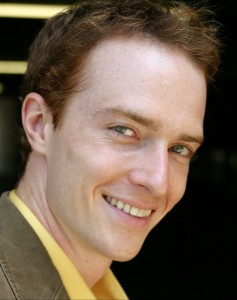 Matthew was raised in Delafield, Wisconsin, a small town about thirty miles west of Milwaukee. His first real audition experience came when two friends shoved him in a room with the high school choir director and barricaded the door until he had agreed to audition. He moved on to study acting at Marquette University, working his first professional film job at the age of 19, a supporting role in the Movie of the Week "The Elevator." After graduation Matthew moved to LA, where he continues to work in film and television.
Matthew Jaeger plays Guy in Just Say Love
Guy is the type of guy that has a clear-cut knowledge of who he is. His curiosity, his ability to express himself through philosophy and art, his sexuality and his desire for that which will make a healthy and supportive relationship. His concern is finding that soul mate in the midst of one-night stands.